Learn how to air fry shrimp like a pro chef even if you are just getting into air-fried recipes. An air fryer is a great tool for making healthier fried food. It's easy to use and doesn't require any oil, so you can enjoy all the deliciousness without worrying about what's going into your body. Here is a simple air fry shrimp recipe on how best to use your air fryer to make perfect shrimp at home!
Air Fry Shrimp Recipe
Ingredients
Shrimp (jumbo or medium in size)
Preferred Seasoning (garlic powder, paprika, black pepper, salt, chili flakes, onion powder)
Olive oil
How To Air Fry Shrimp
The first step is to clean the shrimp properly. You do this by removing all the shells and veins.
Use a clean bowl to mix all the seasoning and the olive oil.
Using a kitchen brush, apply the seasoning mixture on both sides of the shrimp.
Get your air fryer rack or basket and arrange the shrimp on it. Make sure they are not resting on top of each other. This will help ensure they are all crispy when they are done cooking.
Let the shrimp cook for eight minutes. Shrimp are not thick and cook through easily, hence turning them is not necessary.
Serving Air Fried Shrimp
Air-fried shrimps are great when served as part of the main dish. They can be eaten together with pasta or rice.
I also serve them in my salad as a topping when I want to make a light and tasty meal.
You can also include them as part of your taco filling and use them together with your preferred fresh vegetables.
Storing Air Fried Shrimps
If you make excess air-fried shrimp and cannot finish them in one meal or you prefer to meal prep, you can store them for up to 3 days. Just put the shrimp in a container with a lid and refrigerate them.
When you are ready to eat the shrimp, just reheat them in the same air fryer you made them in or use a microwave for just a few minutes.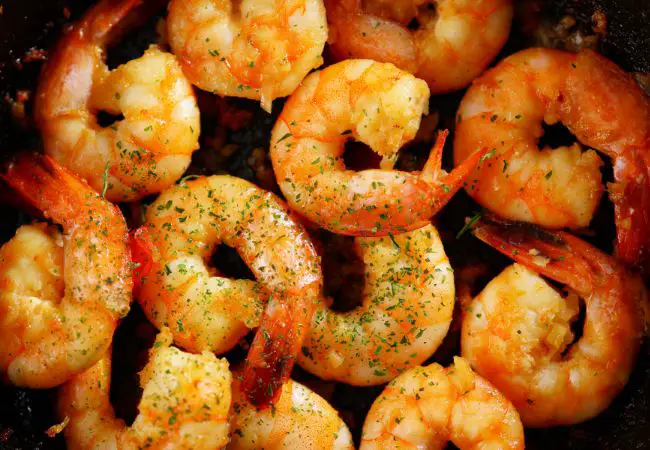 How To Air Fry Shrimp: Tasty Recipe
Air Fryer shrimps that are not only plump and juicy but also healthy.
Ingredients  
1

lb

shrimp

½

tsp

salt

½

tsp

paprika

2

tsp

olive oil

½

tsp

black pepper

½

tsp

garlic powder

¼

tsp

chilli flakes
Instructions 
Properly clean the shrimp by removing all the shells and veins. Put them under running water, then pat them dry with paper towel

Use a small bowl ad mix all the seasoning with the olive oil.

Use a brush to apply the seasoning mixture on both sides of the shrimp.

In a single layer, arrange all the shrimp on the air fryer rack or basket.

Cook the shrimp for 8 minutes at 400 degree farenheight. Turning them is not necessary.

Serve with rice or pasta.
Notes
After trying out the recipe several times I recommend using medium or jumbo shrimp. They come out the best and remain plum and juicy. 
Final Thoughts on Air Frying Shrimp
Shrimp can be cooked by themselves or together with other foods. Check out this easy and healthy shrimp and other seafood boil recipe.
Air-fried shrimp is one of the tastiest and easiest ways of making shrimp. You can do it in a few minutes. I also love it because there are several ways of consuming air-fried shrimp.
I hope this post on how to air fry shrimp was helpful and now you have an amazing recipe to try out. Don't forget to follow me on Fishbasics Pinterest for more awesome recipes.